Polyurethane Belt Welding Machine for Seamless Connectors - 220V, Temperature Range of 180-200 Degrees, Achieves Perfect Belt Forming
Polyurethane Belt Welding Machine for Seamless Connectors - 220V, Temperature Range of 180-200 Degrees, Achieves Perfect Belt Forming
By:Admin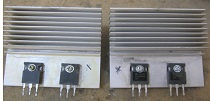 BAOSHISHAN PU Round Belt
Welding Machine
: The New Revolution in Polyurethane Belt Hot Melt Technology
BAOSHISHAN, a leading technology company that specializes in the development of advanced welding machines, has recently released a new product on the market - the PU Round Belt Welding Machine. This machine is designed to weld polyurethane round belts using a hot melt process, thus providing a much stronger and more efficient connection between the belts.
The machine is made from the highest quality materials and is available in several different models, each with its own unique features and capabilities. Regardless of which model you choose, you can be sure that your welding projects will be completed quickly and efficiently, with minimal downtime and high-quality results.
One of the most significant advantages of the BAOSHISHAN PU Round Belt Welding Machine is its temperature range. The welding machine usually ranges from 180 to 200 degrees Celsius, which is perfect for welding polyurethane belts without damaging them. This ensures that your belts will remain strong and durable, even after years of continuous use.
Another feature that sets the PU Round Belt Welding Machine apart from its competitors is its belt forming effect. With this machine, you can easily form belts into a perfect circle, which gives them a cleaner and more professional look. Plus, this feature guarantees a much tighter connection between the belts, ensuring that they stay in place even under heavy loads.
The machine is also very versatile, making it suitable for use in a wide range of industries, including automotive, packaging, construction, and many more. Whether you need to weld belts for conveyor systems, packaging machines, or industrial equipment, the BAOSHISHAN PU Round Belt Welding Machine can handle it all.
Furthermore, the machine is incredibly easy to use, thanks to its simple design and intuitive controls. Even if you're not familiar with welding machines, you'll be able to operate this machine with ease, thanks to its user-friendly interface and detailed instructions.
In conclusion, the BAOSHISHAN PU Round Belt Welding Machine is an excellent choice for anyone looking to improve the quality and durability of their polyurethane belts. With its advanced features, high-quality materials, and ease of use, this machine is sure to exceed your expectations and provide you with the best possible results. So why wait? Order your BAOSHISHAN PU Round Belt Welding Machine today and experience the new revolution in polyurethane belt hot melt technology!